We are now accepting ticket requests for the SHIMMER 81-85 tapings, which will take place on 6/24, 6/25, and 6/26 in the Chicago area. To place a request, fill out the below information, and either send a direct message to the SHIMMER Office on the forum or E-mail
shimmernews@yahoo.com
. We will then reply to let you know if we still have enough seats remaining to accommodate your request. If we do, payment instructions will be provided then.
1. Your first and last name.
2. Your E-mail address.
3. Your postal mailing address, to which your tickets should be sent.
4. Which specific tickets you are interested in purchasing. How many seats? For which day(s)? In which price bracket?
If you would like to make a seating section request, you can. We'll do our best, but please be aware that there are many fans who have been regular attendees for years now, who always like to sit in the same seat for every show. They have seating priority.
Below is all of the pricing specifics, as well as venue information for all three days.
SHIMMER 81
Friday, June 24, 2016 (8pm bell)
Logan Square Auditorium
2539 N. Kedzie Blvd.
Chicago, IL
1st row floor: $60
1st row stage: $50
2nd row floor: $40
2nd row stage: $30
SHIMMER 82 & 83
Saturday, June 25, 2016 (3pm bell)
Logan Square Auditorium
2539 N. Kedzie Blvd.
Chicago, IL
1st row floor: $110
1st row stage: $100
2nd row floor: $70
2nd row stage: $60
SHIMMER 84 & 85
Sunday, June 26, 2016 (1pm bell)
Berwyn Eagles Club
6309 26th St.
Berwyn, IL
1st row: $100
2nd row: $60
---
But before we return to Chicago, we will present
SHIMMER 80
on
Saturday afternoon, April 2nd
, live on iPPV! The event will take place as part of the
WWNLive Experience
at
Eddie Deen's Ranch (944 S. Lamar St.) in Dallas, TX
. Bell time will be 4pm CT. History will be made at SHIMMER 80, as the event will feature a tournament to crown the inaugural holder of the
Heart of SHIMMER Championship
!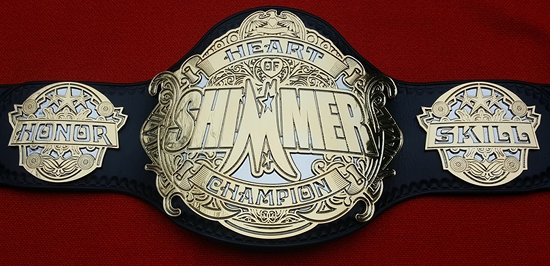 Two SHIMMER championships were established during SHIMMER's first 10 years of operation. SHIMMER 11 & 12 in 2007 featured a two day SHIMMER Championship tournament, while SHIMMER 21 in 2008 included a gauntlet to determine the first SHIMMER Tag Team Champions. With SHIMMER's notoriously large roster of female professional wrestlers from around the world, a third championship added to the mix will provide the athletes on the roster with a new goal to achieve.
Click here
to purchase tickets to the SHIMMER 80 live event in Dallas!