SHIMMER – WOMEN ATHLETES presents SHIMMER 65 & 66 today, Sunday, April 13th, at the Berwyn Eagles Club (6309 26th Street) in Berwyn, IL. Bell time is 1pm Central. Two full length DVDs in the SHIMMER series will be filmed today at the Eagles Club, with an intermission (and a meet & greet with the stars) in between. The events are suitable for all ages.
Already signed this afternoon in Berwyn…
***SHIMMER Championship Match***
(Champion) CHEERLEADER MELISSA vs. MIA YIM
***SHIMMER Tag Team Championship Match***
(Champions) KELLIE SKATER & TOMOKA NAKAGAWA vs. SARAYA KNIGHT & RHIA O'REILLY
***Grudge Match #1***
"Super Hardcore Anime" LUFISTO vs. YUMI OHKA
***Grudge Match #2***
LEVA BATES vs. VEDA SCOTT
***Tag Team Action***
RAY & LEON vs. KIMBER LEE & CHERRY BOMB
***First Time Ever***
HIKARU SHIDA vs. "Latina Sensation" MERCEDES MARTINEZ
Plus KANA, ATHENA, NIKKI STORM, JESSICKA HAVOK, NEVAEH, KAY LEE RAY, EVIE, HEIDI LOVELACE, COURTNEY RUSH, PORTIA PEREZ, NICOLE MATTHEWS, CHRISTINA VON EERIE, MELANIE CRUISE, and more!
You still have time to secure tickets for today's shows in advance, to guarantee seating on the chance of a sellout. Tickets can be purchased online and will also be available (while they last) at the door.
Some second row reserved tickets are still available for today's events, at a cost of $40 for the full day of taping. Only a handful of second row seats remain available, so act fast! Obtaining second row reserved tickets means you don't have to be in line early this weekend and fight for a seat in the second row… you are guaranteed a numbered, assigned seat, which will be waiting for you at any time you choose to arrive.
General admission tickets are also still available, at a cost of just $20 for the full day of taping. The general admission seating is not assigned/numbered. Those seats are up for grabs as soon as doors open.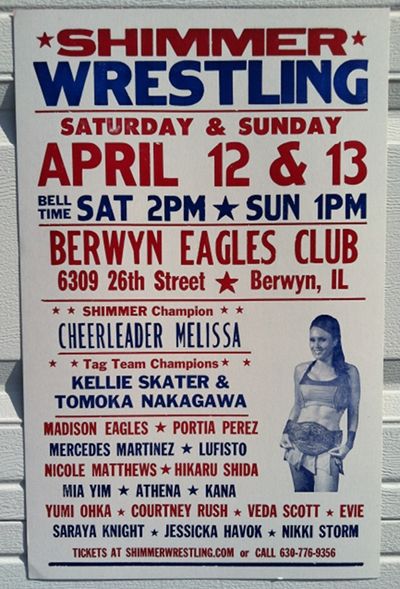 We will also have two fan gatherings after the wrestling matches conclude tonight. Join the wrestlers and your fellow fans at Paisans Pizzeria & Bar as well as Lisa Marie Varon's (formerly Victoria of WWE) Squared Circle restaurant!
Sunday, April 13th: 8pm until 10pm
Paisans Pizzeria & Bar (6226 W. Ogden Ave. in Berwyn)
SHIMMER 65 & 66 After Party!
Sunday, April 13th: 10pm until closing
The Squared Circle (2418 N. Ashland Ave. in Chicago)
Official SHIMMER Weekend Wrap Party!
---
PURCHASE ADVANCE TICKETS BELOW
Ticket orders placed between now and bell time will be held for you to claim at the door.
---
SUNDAY 4/13 Second Row Reserved Tickets
---
SUNDAY 4/12 General Admission Tickets (Third Row & Back)
---
Join the festivities today in Berwyn! Beeee there!!!
ViralRank
: 1